Middle East Inspection is a Western 3rd party inspection company focusing on quality control and quality assurance in the Middle East. We specialize and are experts in product inspections, factory audits, and product testing. We can inspect any order and audit any factory within 48H, anywhere in Turkey.
Nowadays, almost all Turkey manufacturers have their own quality control teams, why do you still need an independent (third-party) inspection service?
No mother says her own child looks bad. A large amount of manufacturers' trend is hiding something, especially while quality control means extra cost or scrapping to them. But if the problems hidden cannot be detected before shipment, the biggest loss will be transferred to the buyer.
Most of the manufacturers' in-house quality control teams are not so obliged or qualified to perform professional inspections as third-party inspection companies do. A professional inspection company performs inspections more rationally, more precisely, and more considerately.
Has production started correctly? (First Article inspection)

Is my order produced according to my specifications? (Product Inspection)

Is the container well loaded? (Container Loading Inspection)

How to make sure the factory has put in place the right quality checks? (Production

Monitoring)

Is my potential vendor reliable? (Factory Audit)

Is my factory following international and local rules and regulations? (Social Audit)
You can send us your requirements, instructions, specifications, criteria, and attachments by e-mail (24/7).
Our Operations team will prepare, coordinate and arrange your booked service and you will receive a confirmation email. If you have any questions, you can contact us at any time.
You will receive one invoice per month, at the end of the month (if you are a regular client; otherwise, payment prior to the service will be requested).
Quality Control Inspection Services.
Audit Services.


Product Laboratory Testing Management.

Quality Control Inspection Services.

First Article Inspection (FAI).

Inspection of machinery and materials to be used for your order prior to production.

During Production Inspection (DPI).

Control and recommendations for production processes and capacity.

Pre-Shipment Inspection (PSI).

An Inspection to guarantee the conformity of production to your specifications.

Container Loading Inspection (CLI).

Guarantee the finished and packed goods meet your specifications (product type

and quantity) and are securely loaded for shipment.

Production Monitoring (PM).

Constant oversight in your factory with daily reports on quality and production status.

Audit Services:
Fast Factory Audit = $380

all-inclusive

Assessment of the profile & capacity of your vendor.

Factory Audit = $750

all-inclusive

Full assessment of the

know-how

, profile, capacity

, and

experience of your vendor.

Social Audit = $750

all-inclusive

Full social assessment of your factory as per SA8000 (international and local laws &

regulations).
+ Expertise : We focus on consumer products.
+ Management : Western & local quality engineers.
+ Personalization: Custom-made solutions, When needed.
+ Flexibility : Only 2 days notice, online booking & tracking.
+ Cheaper : Our fee is $380 per Man-Day (1 inspector / 1 day).
+ Faster : Easy online booking, Pre results, Same-day Reports.
+ Safer : Our services adhere to recognized international standards: ISO2859, ISO9000, SA800
A dedicated and experienced team
Most of our inspectors, auditors, engineers are full-time employees.
We recruit experienced and professional people with a Western capacity of judgement.
All our inspectors and auditors are regularly trained to international quality standards.
Our quality control and assurance services are following international standards.
We all abide to a strict Business Ethics & Compliance Code.
Easier, faster and cheaper for you
From your private account, you can manage all your quality needs.
You get your reports the same day of the inspection.
Our Man-Day rate starts at $380 all inclusive.
We do not offer any sourcing services. All information about our clients' vendors and factories is confidential and shall not be transmitted to any other party. All information is strictly kept confidential and shall not be sold or use for any other purpose than the quality control service you are paying for. If you are in need of these services, please consult our Endorsed partners' page for relevant company information.
Our reports are very detailed, illustrated with pictures and cover:
Product appearance (AQL), Workmanship quality
Product specifications review: quantity, material, color, size, measurements, labeling & marking, packaging, packing, accessories, shipping marks etc.
On site Testing and special checks.
Important remarks and professional feedback.
Address for inspection location
Supplier name and contact information
Which type of inspection required
You will need to book a final inspection three working days in advance. This allows us time to gather and check all the information required to issue your specifications.
The inspection results are sent within the same-day of the inspection.
The reports are usually sent in inspection day between 5PM and 11PM Istanbul/Turkey time.
We inspect the shipment according to AQL international standards and also according to your instructions, specifications and criteria. Then, our results are given to you through a fully detailed and illustrated report, which should allow you to decide whether to allow the shipment of your products. You can accept or reject your shipment directly online.
Middle East Inspection provides quality control and quality assurance services in Turkey.
If you have an inspection or audit location in Middle East Area, We can also send our inspectors to control your products.
If you are not sure if your inspection or audit location is part of our coverage area in Middle East, you should contact us a few days prior to the shipment for confirmation of possible additional fees for travel expenses, hotel or bonus for the quality inspector.
It is extremely rare that non-conforming goods make it out of the factory if MEI is hired. In the vast majority of cases, the root cause turns out to be damage during shipping or shipments were approved after a failed inspection and the buyer trust the factory (who was likely supposed to rework the goods) enough to ship without having performed a re-inspection or a defect sorting service. Therefore, we highly recommend you to book re-inspection or defect sorting service after a failed inspection and to work with your shipping partners to insure the product against damage in transit. MEI guarantees that we will inspect the product to the standard and methods approved by the client (including chosen sampling size). In the event our inspectors do not follow the agreed standards, MEI will make a refund of up to 5 times the price of the inspection.
As it is not economically viable for most clients to inspect every unit in the order, AQL tables determine the number of units to be inspected which will yield a statistically reliable sample size. In other words, if the inspection on the randomly selected lot goes well, then it is statistically unlikely that defects will be found in the rest of the order. For the sake of example, say there are 100 master cartons in an order and 50 units per master carton for 5000 units total. Our inspectors would open at random a select set of master cartons (the square root of the total number of cartons) and further select at random a set of individual units inside that master carton as per sampling size chosen by the client. However, if the supplier knew they had a few dozen defects and packaged the defects all together in one section of one master carton, then it would be statistically unlikely that our inspector would find this pocket of defects. For this reason, MEI does not provide a warranty on behalf of the supplier. But we stress to our clients that they should have robust POs, warranty terms and payment terms with their suppliers that protect the interests of the client. Negotiating such terms with the supplier is outside of the scope of our business at MEI, but our Endorsed Partners can help with the negotiations and contract review.
In order to save time and money, we advise you to send it directly to your factory, in a sealed package to our attention. In case you do not trust enough your factory or vendor for this, you can send it to our closest office. To know to which office to send it, check our offices address on your dashboard or contact your account manager.
Middle East performs product inspections services according to:
- Recognized international quality standard: ISO 2859-1 (ANSI/ASQC Z1.4-2003), also known as the AQL Tables
- Client's requirements, specifications, criteria and instructions.
- Our team expertise and experience in quality control.
- Our Western common sense.
The quantity produced (semi finished, finished and packed)
The visual appearance (cosmetic check of the mass production)
The product specifications (size, dimensions ,colors)
The labeling and marking
The packing and packaging
All possible functions and possible tests (safety, abuse, printing etc)
How to decide if the number of defects found is acceptable?
Middle East Inspection uses the recognized international Quality Control standard ISO 2859-1 (ANSI/ASQC Z1.4-2003), also known as the AQL Tables to conduct product inspections services.
The standard definition of the AQL (Acceptance Quality Limit) is "the maximum defective percent (or the maximum number of defects per hundred units) that, for purpose of sampling inspection, can be considered satisfactory as a process average".
Basically, we randomly select a sampling size quantity (based on the AQL tables) to be inspected. We inspect the sampling size and classify the defects into critical, major and minor defects.
According to the number of defects found for each type and according to the number of defects allowed (figures given by the AQL tables), we will advise you to accept or to reject your shipment.
Then it is up to you to make your own decision based on the information and recommendations we have provided to you.
You usually have 3 types of situations:
1) Bargain.
2) You accept.
3) You reject.
In fact, there should be more or less only 1 situation: you discuss findings with your vendor and the manufacturer and you ask him to pay attention/rework/re-produce/sort out the products...
Of course, in some rare cases situations can be trickier but we are here to help you.
The AQL tables will help to determine the sampling size we will need to inspect according to your ordered quantity and your level of severity (I, II or III). The standard level, the one used by default and by 98% of the people is the level II for a standard inspection.
If your order has multiple references, ideally we should at least inspect a level II on each reference.
Indeed, for a standard order, the standard level II from the AQL gives the minimum sampling size we should check per reference if we do not want totake additional risks. If we inspect a general level II sampling size on a multiple references orders, then the sampling size is diluted and divided by the number of references, increasing the risks as the sampling size must be representative enough.
Please check here if you want to see more explanation about the AQL tables and the AQL tables itself.
Middle East Inspection uses the Acceptance Quality Limit standard during product inspections, unless an other standard is requested by the client. The standard definition of Acceptance Quality Limit (AQL) is "the maximum defective percent (or the maximum number of defects per hundred units) that, for purpose of sampling inspection, can be considered satisfactory as a process average".
In order to find the necessary sampling size to be inspected, we look at the first chart and find on the left side the range of items being produced in total. You have the choice of levels I, II and III, with Level III being the most stringent testing and level I being the least. Level II is the standard and is most often used. For example, if you are producing 8000 items, at level II you have the letter L, which in the second table says to inspect 200 items.
On the top of the second chart are the defect levels, ranging from 0 to 6.5. You can choose which level to apply for your type of defect: critical, major and minor. Usually most importers will choose standard defect levels which are 0/2.5/4 but one can choose 1/1/1 if he wishes or 0/1.5/2.5 like in the automotive industry. Using the standard 0/2.5/4 defect levels and a sample size of 200, we see that if you have more than 0 critical defects, 10 major defects or 14 minor defects, you should reject your shipment. Of course the decision about what to do after your received the inspection results belongs to you. Most importers will wish to discuss all inspection findings with their vendor/manufacturer in order to improve whatever possible. In case the inspection results are very close to AQL limits, it is important that you double check if the level of found defects is acceptable to you or not.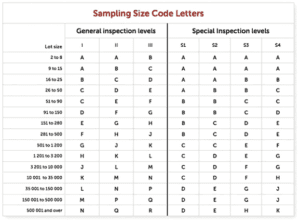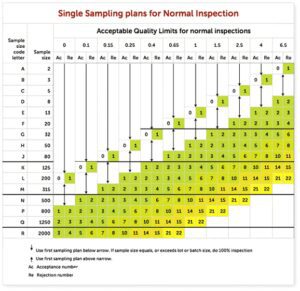 - Recognized international quality standards, norms & regulation (see details below)
- Client's requirements, specifications, criteria and instructions
- MEI Team expertise and experience in quality control
MEI's simple Factory Audit and Extensive Factory Audit are both based on a checklist derived from the ISO9000 series (a set of quality standards developed in 1987 by the International Organization for Standardization).
Quality management audit reports shall cover the following verifications:
- Quality Management System
- Production processes
- Quality of the produced products (available at the time of the audit)
- Work force and working conditions
MEI's Corporate Social Audit's checklist is based on the SA8000 standard and on the local country's regulations.
SA8000 is a way for importers to ensure fair and decent working conditions throughout their supply chain. SA8000 is based on international workplace norms in the ILO conventions and the Universal Declaration of Human Rights and the Convention on Rights of the Child.
Social compliance audits cover:
- Child Labor
- Forced Labor
- Health and Safety
- Freedom of Association and Right to Collective Bargaining
- Discrimination
- Discipline
- Working Hours
- Compensation
- Management Systems
1.1 Unless otherwise specifically agreed in writing by Middle East Inspection Services (hereinafter called "MEI"), all inspection/audit services provided by MEI are governed by the following general conditions of service, which prevail any purchase terms and conditions.
1.2 Services carried out by MEI, on behalf of an entity or individual from whom the instructions to act have originated (hereinafter called the "Customer") will be carried out by using techniques and processes that permit an independent, impartial and objective approach. It is important to mention that MEI promotes ASQ's code of ethics as the main guideline to perform all its services.
The end result of any service will consist in a certificate or document (hereinafter called the "Report") communicating the collection of information MEI has been requested to supply and will be delivered by fax, email, written document or online report.
1.3 No other party than the Customer shall be entitled to give instructions to MEI, particularly on the scope of inspection or delivery of a Report, unless so authorized by the Customer.
1.4 Service Responsibility Definitions: When an audit is carried out by a team, an audit team leader should be placed in charge of the audit.
Inspectors are responsible for:
Complying with the applicable service requirements
Documenting and reporting service results
Maintaining confidentiality of the service
Inspectors should:
Remain within the audit scope
Collect and analyze evidence
Act in an ethical manner
The Customer:
Determines the audit need, scope, and purpose
Receives the service report
Determines follow-up action (action plan)
The Auditee's (Supplier) responsibilities include:
Providing resources needed by the inspection team
Providing access to the facilities and material
Determining and initiating any corrective actions requested by the Customer.
2.1 MEI in the capacity of an independent third party, supplies information in the form of ascertainment or recommendations for the special purpose of contributing to the prevention of the risks to which the beneficiaries of its services are exposed, and of helping them assure the quality of their products. MEI's services consist of work performed by MEI, including but not limited to :
Factory Audits
Social Audits
Product Inspections (First Article Inspections, Pre Production Inspection, During Production Inspections, Pre Shipment Inspections, Container Loading Inspection)
Production Monitoring
Laboratory Testing
3.1 MEI expressly reserves the right to act at its own discretion in accepting or declining a request for service, and cannot be compelled to accept or be held liable for declining a request for services or for products:
Falling out of its scope of activity or specialization;
Presenting geographical accessibility problems, such as services to be rendered or products to be found in restricted or highly remote areas;
Requiring MEI to obtain special permissions to operate, such as governmental permissions.
3.2 MEI undertakes to supply the services it has accepted to carry out in a professional and timely manner, in accordance with proper professional practice and in compliance with:
The Customer's special instructions when ordering the service and as confirmed by MEI - the terms of reference should be duly signed by the Customer and MEI and in the absence of such instructions:
Any relevant professional standard, trade custom, usage or practice;
Such methods as MEI shall consider appropriate on technical, operational and/or financial grounds.
3.3 MEI shall exercise due care and skill in the selection and assignment of its personnel.
4.1 To take all reasonable steps to assure MEI has access to the site and materials on which service will be performed.
4.2 To provide MEI with all information and samples, as well as all documents necessary to complete requested service, in a timely manner (and in any event not later than 3 days -72 hours- prior to the desired intervention), except for generally available documents such as codes and standards, either directly or through suppliers or agents of the Customer.
4.3 To insure that adequate instructions and notice are given to MEI in due time to facilitate proper performance for the service requested.
4.4 To advise MEI of the date on which the services are to commence, or to be resumed, and also of essential dates affecting the item(s) for which services are being rendered.
4.5 Generally to render all reasonable assistance to MEI in providing necessary instructions, information, documents, safety and security information in connection with the working conditions, required equipment and access (as the case may be).
4.6 Documents reflecting engagements between the Customer and third parties or third parties' documents - if received by MEI - are considered to be for information only and do not extend or restrict the scope of the services or obligations accepted by MEI.
5.1 Unless otherwise agreed invoices for services performed by MEI are payable immediately upon receipt, each party bearing its own bank charges. Late payment will incur an interest charge at 3% per month, or fraction thereof.
5.2 Cancellation charges: we accept cancellation until two days before the projected inspection date. After this limit, the services booked will be charged in full.
5.3 MEI advises its Customers to then re-charge this cost to their factory, if cancellation is caused by the factory.
5.4 In the event that MEI is being prevented from performing or completing in full requested services, for any reason beyond its control, such as, but not limited to, wrong information given by Customer or factory (e.g. goods not ready for inspection despite information given by factory, wrong factory address given by Customer or factory, etc), the Customer agrees to:
5.4.1 Reimburse any expenditure, and out of pocket expenses made or incurred in relation to this service;
5.4.2 Pay proportion of fees due for services actually rendered and to release MEI from all responsibility for partial or non-performance of the services.
5.5 In the event when the inspection must be cancelled on the projected inspection day, because of wrong information given by Customer or factory (e.g. goods not ready for inspection despite information given by factory...), one man-day will be considered spent, and MEI will charge full fee to Customer as a 'Missed Inspection' fee. MEI advises its Customers to then re-charge this cost to their factory when the factory is proved to have caused the cancellation.
6.1 Limitation of liability
6.1.1 MEI is neither an insurer nor a guarantor and disclaims such capacity. Customers seeking a guarantee against loss or damage should obtain appropriate insurance.
6.1.2 Subject to the Customer's instructions as accepted by MEI (as specified in the terms of reference), MEI will issue the Report relating to the facts as recorded by it within the limits of the instructions received and on the basis of the documents and information provided by the Customer (refer above), but MEI is under no obligation to report upon any facts or circumstances which are outside the specific scope of its assignment.
6.1.3 MEI advice is given only in relation to documents and information provided by the Customer, and MEI cannot be held liable if it has received incomplete or erroneous information.
6.1.4 In the event of false information being given to MEI by a third party, MEI accepts no liability.
6.1.5 MEI undertakes to use its best efforts and to exercise due care and skill in the performance of its services, and accepts liability only in case of negligence proven by the Customer.
6.2 Indemnification
6.2.1 In the event of MEI being held liable in respect of any claim for loss, damage or expense of any nature, its liability to the Customer shall in no circumstances exceed ten times the total aggregate sum of fees paid for the specific services for which a claim is made.
6.2.2 In addition, in case of the Container Loading Supervisions :
Where less than 100% of the production is complete, our responsibility will only extend to those items completed at the time of inspection ;
The Report does not evidence shipment.
The Customer shall guarantee and indemnify MEI and its servants, agents or subcontractors against all claims made by third parties for loss, damage or expense of whatsoever nature arising, relating to the performance or non-performance of any service, to the extent that the total sum of such claims exceed the limitation of liability mentioned in Article 6.2.1.
In the event of any claim, notice must be given to MEI headquarters within seven days following discovery of the facts, or three months from the completion of the MEI service.
MEI shall be entitled to automatically terminate or suspend provision of services in the event that :
7.1 The Customer commits any material breach of its obligations under these terms and conditions and/or the terms of reference and fails to remedy it within ten days of receipt of notice served by the Non-Defaulting Party (MEI) requiring it to do so.
7.2 The Customer is insolvent or unable to pay its debts.
The Report will reflect findings of the service at the time and place of service. This Report does not discharge sellers and suppliers from their legal and/or commercial obligations towards the principle.
9.1 Unless otherwise provided, these terms and conditions shall be governed by and construed in accordance with USA Laws.
9.2 All disputes or differences of any kind whatsoever between the parties in connection with or arising out of the services shall be submitted to the non exclusive jurisdiction of the courts of Turkey.
These terms and conditions have been drafted in English. In case of discrepancy, the English version shall predominate for all purposes.
Product Inspections and Fast Factory Audit costs are $380 and Factory Audit an Social Audit costs are $750 all inclusive. Product inspections are usually performed within 1 man-day.
The number of man-days needed depends on the total ordered quantity, which gives us the sampling size to inspect, the complexity of your product and the number of reference to inspect. FYI, while booking your product inspection online, you will get a quotation before confirming your order.
You will receive one invoice at the end of the month with all the inspections we performed on your behalf. This invoice is payable upon receipt by TT or PayPal. We invoice in USD but you can pay us in any major currency.
We accept payment through PayPal, Western Union, all major Credit Cards (Visa, MC, EC, Maestro, Amex, Discover) and TT. For all details, please read our Terms and Conditions.
We offer special packages for our VIP clients who book regular inspections and have been working with us for an extended period of time.
Thank you the report, We have appreciated your work.
Thank you for your cooperation.